Over the last few years, there's been a lot of hype in the marketplace about the use of AI technology to automate data extraction from submissions.
Many people we've spoken with have tried different tools, and haven't been entirely satisfied with the results.
The reality is that most tools attempt to automate the process (instead of augmenting the underwriting team - more on that later). Automated solutions can typically only extract data from a small number of document types, and cannot meet high accuracy requirements.
This means that using tools that entirely automate data extraction is not viable for some insurers, that can have between 100 - 200 different types of documents. These insurers need a more flexible solution that can be used throughout the policy lifecycle in areas such as:
Triaging new submissions
Quoting new business & processing renewals
Extracting information to validate incoming claims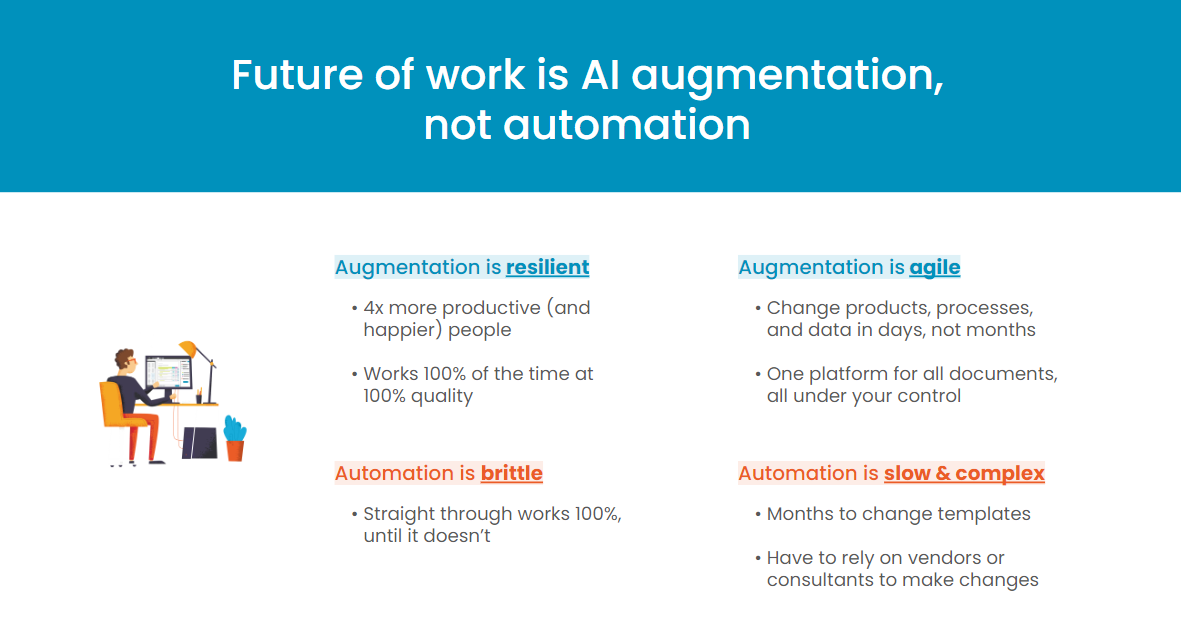 Automation vs. Augmenting your team with AI
One of the issues in commercial lines insurance is that documentation is complex and constantly changing, making data extraction challenging and virtually impossible to automate entirely - meaning without any human intervention.
That said, other solutions exist to help increase your current underwriting capacity.
Consider tools that leverage AI and machine learning that help your team process submissions faster and augment their capacity, rather than trying to find tools that will do the work for them, or replace them.
With this approach, your underwriters stay involved in the process. Arming your experts with tools that help them process documents faster allows your team to review every submission, ensuring that you're not leaving revenue on the table.
By keeping your underwriters in the drivers seat rather than automating the process entirely, you won't have to worry about data quality or increasing risk that might result from full automation.
Artificial intelligence and machine learning technologies can be used to free up underwriters and claims adjusters from manual and repetitive tasks. This technology can empower underwriting and claims teams so they can focus on higher-value activities, not replace them.
Accenture estimates commercial lines underwriters spend up to 40% of their time on non-core and administrative activities. Solutions like SortSpoke can help your underwriting team with these tasks so that they can use their expertise to:
Investing in Your Greatest Asset
Your employees are your greatest asset, and underwriters have expertise that is hard to replace. With insurers struggling to attract and retain talent, you can leverage AI in a way that empowers your team and gives them control over how they work, instead of trying to replace them or fill gaps by trying to automate the underwriting process.
Over the years, we've helped TAI reduce the treaty review process from 8 hours to 30 minutes, SCM Insurance Services reduce the effort to set up a claim by 80%, and we can do the same for you.
Contact us today to request a 60-day no-obligation trial account.
Superior Inbound Material
Quickly and efficiently build the materials you need to support your inbound marketing strategy. Drag and drop building blocks including testimonials, forms, calls-to-action, and more.
How SortSpoke helps
Create audit trails and capture higher-quality data for compliance reporting
Recruit and retain staff by eliminating manual and redundant processes
No technical resources or templates required

Increase document processing speed by

4x - 10x