How Breakthroughs in Data Extraction Technology Can Help Pet Insurers Deal with Rising Claims Volumes

SortSpoke
Last year the total premium volume for pet insurance in the U.S. was nearly $2.6 billion, a 30.4% increase over the previous year.
This growth was due to various factors, such as an increase in pet adoptions during the pandemic, employees working from home, and employees asking their employers to offer pet insurance as a voluntary benefit.
Today, many insurers view pet insurance as an untapped market. By 2027, Graphical Research estimates that the North American pet insurance market will surpass $3.8 billion in revenue.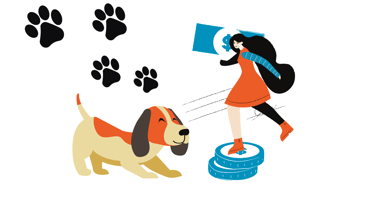 A Delicate Balancing Act: Writing More Business vs. Higher Claims Volumes
As carriers look to increase their market share in the pet insurance space, they must also perform a delicate balancing act between writing more business vs. increasing claims volumes.
One of the challenges with pet insurance claims is that they are very labor-intensive. The typical claims cycle involves adjusters manually reviewing policy information and rekeying data from claims submissions (pdf format) into in-house systems.
To combat these issues, carriers have two choices. First, they can hire more adjusters, which significantly increases expenses, or they can utilize solutions such as intelligent document processing.
If you're not familiar with intelligent document processing, it leverages machine learning to extract information from documents to free up adjusters from manual tasks like pulling data from pdfs.
However, while many of these solutions do an exceptional job of extracting data from structured documents, they weren't built to pull data from highly varied and unstructured documents.
ML + Humans in the Loop = 100% Data Accuracy
Unlike traditional intelligent document processing solutions, SortSpoke specializes in extracting information (data in textboxes, tabular data, etc.) from highly varied and unstructured documents like pet insurance invoices.
SortSpoke does this through a combination of proprietary ML models and humans in the loop to ensure 100% data quality. Once SortSpoke extracts information from documents, adjusters will review and approve the data pulled.
For example, if it takes someone 4 - 5 minutes to review a document and extract 25 - 30 pieces of information, SortSpoke can decrease the effort required to extract this information by approximately 80%.
In addition, for every document processed, SportSpoke's ML is watching and learning. Within a short amount of time (in as little as 10 training pieces), SortSpoke will start building out its algorithm and model on the fly and will continually update after every document and interaction.
Once the information has been approved, SortSpoke will eliminate unnecessary keystrokes by automatically exporting this data into structured documents or pre-fill it into in-house systems using one of our RPA partners.
A Force Multiplier for Your Pet Insurance Claims
As carriers look to increase their market share in the pet insurance space, a key component to attracting and retaining customers will fall upon the claims handling experience.
SortSpoke's cloud-based data extraction platform is used by 25 carriers and MGAs who need help turning medical, financial, policy, and other highly complex and unstructured documents into data.
_________________________________
To see how SortSpoke helped SCM Insurance Services to accelerate its claims cycle times via automation, check out this video or book a personalized consultation below.